Thinband Quick Clamp Features & Benefits:
• The QUICK CLAMP has a spring-loaded design that ensures the Thinband heater is quickly and tightly secured in place in a matter of seconds
• Thinbands with a QUICK CLAMP fit over barrels and snap in place with an easy flip of its latching lever.
• Hot change-outs are completed in seconds.
• Spring tensioned clamp keeps the THINBAND heater tight against barrel, meaning it won't loosen over time.
• Ideal for vertical applications.
• The QUICK CLAMP simplifies your install, eliminating tools, loose parts
• THINBAND opens up to fit over barrel. There is no need to remove other heaters.
• This band heater is available in selected stock, and made-to-order needs. Thinband barrel heaters are available at a minimum of 100 mm (4 in.) diameter, 8 mm (1.5 in.) width.
Quick Clamp Installation…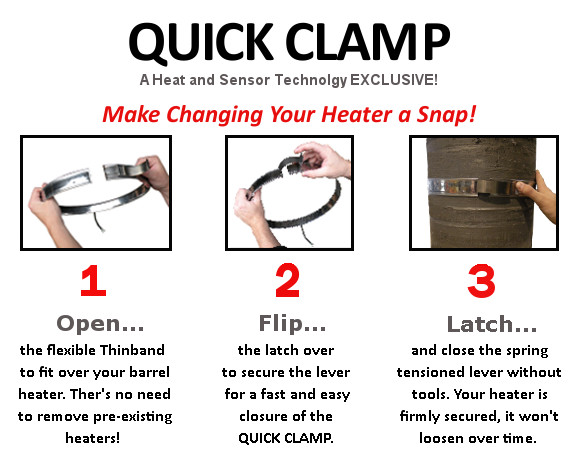 Quick Clamp Standard Specifications:
• Standard gap is 12.7 mm (0.5 in.).
Click to view the options for all Thinband barrel heaters: Thinband Clamping Options