Test Our 3-D Configurators
Click  on spinning Thinband to Log in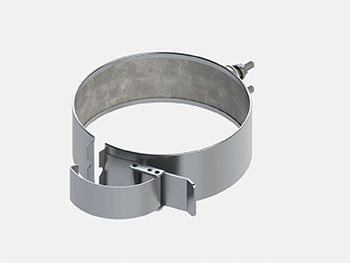 Featured: Thinband with Quick Clamp and Post Terminals
Our Thinband Stock Configurator and Custom Thinband Configurator are uniquely available to Distributors and OEM Businesses.
Contact us now to request your personal Username and Password to view the FULL version of our Thinband Configurators:
Call: (513) 228-0481, or Email: info@heatandsensortech.com
CLICK: THINBAND Configurators, to try our 3-D Thinband Configurators as a guest. Enter "GUEST" in the User box (Password not needed). 
What do our Thinband Configurators offer?
Design/Review/Submit – for a Quote & Drawing – at your convenience!…

You'll see the 3-D viewing of your heater with the specifications you've selected
Preview nearly limitless heater possibilities with our Custom 3-D Configurator!
Your complete heater specifications are detailed for you to revise!
Receive emailed drawing specifications AND your quote - within minutes of submitting your quote! 
Once you place your order - your order will ship on the following business day!
Configure Your Custom Thinband Heater Today! To request your personal access codes:
Phone: (513) 228-0481, or Email: info@heatandsensortech.com
If you have issues viewing the 3-D model, please download Microsoft Silverlight
Note: Most visitors experience best web viewing results using Google Chrome
Stock THINBAND Heaters can be made with our exclusive QUICK CLAMP latch design.  
Select and view Your Thinband heater with a QUICK CLAMP - when you use our 3-D Configurator! 
Click for more: QUICK CLAMP features and benefits.