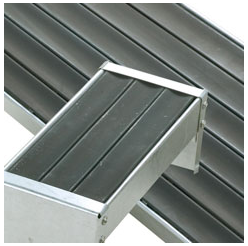 Heat & Sensor Technologies Expands Product Line with Purchase of PanelMAX Radiant Panel Heater Product Line from Watlow®
Lebanon, OH – May 1, 2016 – Heat & Sensor Technologies continues to increase the utilization of its 40,000 square ft. manufacturing facility with the purchase of the PanelMAX (formerly known as RAYMAX®) radiant panel heater product line from Watlow®. This acquisition will increase Heat & Sensor Technologies to ten product lines. This will be added to the company's current product lines of Thinband®, Mica Band and Mica Strips, Ceramic Bands, Cartridge, Thermocouples, Channel Strips, Tubular and Custom Specials.
The diverse PanelMAX radiant panel heater product line will allow Heat & Sensor Technologies to serve a wide range of needs and expand its customer base to include applications such as thermoforming, food warming and heat treating. The PanelMAX line solves virtually any application requiring radiant heat from contamination-resistant surfaces to fast responding high temperature panels. These radiant heater panels are capable of a variety of temperature and watt density requirements and adaptable in terms of custom designs. Heat and Sensor Technologies is preparing its multi-building facility to house the new production line of PanelMAX heaters, extending opportunity for the Ohio heater manufacturer's business.
Vice President Gary Shackelford explains how it will change the future for his company: "This is the sixth and largest expansion since our first year of operation in 2002. Not only do we forecast that it will increase our company's sales by a huge margin; we will be able to distribute this new line to all of our existing customers, as well as provide an additional product for our sales reps to offer the OEM market. With the advanced technologies and machines recently acquired by Heat & Sensor Technologies, it is a guarantee that the new radiant panel heaters will be manufactured for distribution around the globe."
Heat and Sensor Technologies, LLC is a rapidly growing heater manufacturer that has earned excellent ratings from distributors and OEMs worldwide. Please visit the interactive website at www.heatandsensortech.com where customers are able to build and order custom heaters just from a few clicks of a button.
Watlow® and RAYMAX® are registered trademarks of Watlow Electric Manufacturing Company.
Thanks for doing business with us.

Sincerely,

Gary Shackelford
Heat and Sensor Technologies, LLC
www.heatandsensortech.com

(513)-228-0481