The Owners of Heat and Sensor Technology have had a particular long-time vision – to implement premier technology with our Configurator programs. Our goal began using DriveWorks software to design Configurator programs – for building heaters… online, and especially for use by Distributors and OEM businesses.
We began to realize this dream in May of 2014, with the launch of our Thinband Stock Configurator, and our Thinband Custom Configurator. And before the year closed, we launched our Channel Strip Configurator (November, 2014). Keeping up our momentum, in February of 2015, we launched our Cartridge Configuator. What's next? The Mica Strip Configurator will be next… and just in time for the NPE2015 show!
We feel our Configurators are a benchmark of achievement – representing excellence in customer service that we'll continue to develop. Our customers have convenient access when they want to build a heater, 24/7 – right from our Home page. The appealing benefits of our programs are: Customers can manipulate and examine the 3-D image of their design – before placing an order. And once a customer completes their design, and clicks the quote button, they automatically receive an emailed quote and drawing of their built heater.
If you too would like to test a Configurator, please don't hesitate to call us: EST, 8-5 pm: 513-228-0481, for your personal USER & PASS access codes.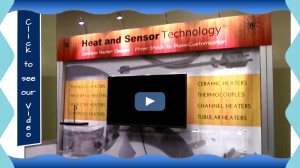 We will be exhibiting at NPE2015 this year!
For those attending this March 23-27 NPEShow in Orlando, Florida, please stop by our booth: S19147. We will have samples ofall our product lines: Thinbands, Channel Strips, Cartridges, Mica Strips, Mica Bands, Ceramic Bands, Thermocouples and Tubular Heaters, all available for up-close handling, and for product Q&A. All visitors are welcome to test our Configurators – from both front corners of our booth!
For those without an NPE2015 Pass – click here for your free GUEST PASS from Heat and Sensor Technology!
See our Configurators featured on DriveWorks' Configure & Automate Blog.